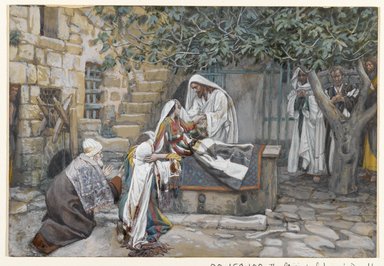 ">
Let me play with you a little bit to show how we let a frame of reference in our minds, and our presuppositions, color our entire view of reality.  Let's look at today's Gospel and let's say some Republicans and Democrats from today are actually there in this Gospel story.  The Republicans' world view might lead them to say to Jesus, "Those Democrats want you to refrain from curing both the dying little girl and the woman with the hemorrhages, because the Democrats' attitude is to let the government take care of them!"
         "Oh, yeah," say the Democrats, "Well the Republicans want you to let the little old lady and the little, dying girl fall through the safety net and just fall where they may."
          Do you see that our presuppositions and preconceived opinions impact our view of everything?
          Today's Scriptures suggest to me that we think about one of the most fundamental questions in life and take note of our presuppositions.
          The fundamental question is this: If God did not make death, who did make it?  Who or what made suffering?  Who or what made sickness and pain and injustice and sorrow?  If "God does not rejoice in the destruction of the living," then why does it happen?  Why does a 12 year old have to die?  Or why does a woman have to suffer from hemorrhages  for 12 years and have no relief?
          The presupposition that our society makes today is that God is irrelevant to these questions.  Secularist thought would say that Biblical faith has no more to offer on these sorts of issues for thinking people, because the Bible has been found to be out of touch with the scientific world and has nothing accurate to say about our origins, or the origins of evil, or suffering or death.  Secularist thought has also tossed aside all the doctrine of the Church, so, the attitude now is: let's instead find our own way to answer these puzzles in life.  And this frequently enough means that we simply avoid these questions as imponderable.
          Avoiding these questions, however, leaves us yielding to a diminished humanity, lacking in substance, living the precious gift of life on a superficial level.  
         So, let's dig in to ask, "If God did not make death, who did?"  Who  or what caused the 12 year old girl to die?  Who or what caused the 
widow to be plagued as she was for 12 years?  Where did all this suffering come from?
        The classical Christian answer has been that original sin is the cause of all suffering, including death.  The doctrine of original sin says that before the sin of Adam and Eve humanity was in Paradise with no disease, no suffering and no death.  When God made human beings He made us good and He gave us free will.  It is the misuse of that free will that has caused all the suffering in the world.
         How, you might ask, can things like famine and earthquakes and  wildfires be caused by the misuse of human freedom?  But alas, we do not tend to think of the history of the human race to be as long as it has been.  If just recent generations have caused such havoc as to change the climate of the earth, what would 60,000 years of human misuse of freewill have produced?
         Many people today do not accept the doctrine of original sin.  Death, they say, pre-existed the human race.  Long before the human race appeared, all life forms had cycles of birth and death and rebirth.  One generation of dinosaurs died and another replaced it until they were all extinguished.  One generation of plants lives and then dies and another generation replaces it.  So, the thinking goes, human life simply lives out the same cycle as the rest of the biological world.  And so the presuppositions build, that human life is just like any other form of life.  In this worldview there is no room to see humanity as the gory of God's creative power.   And there is no room for the doctrine of a first sin.
           These presuppositions leave the human race with a very unsatisfactory result: that the human race is fundamentally flawed, that human beings are inherently contradictory so that everyone carries good and evil within themselves, that holiness is not possible or desirable.  
           We Catholics do not see the world or the human race in this way.  We know that we are fundamentally good, that we were made by the one and only source of all that exists, and that God is good, and that in Him there is no evil. For God made us in His own image.  He made us good; and even when we have misused our freedom and caused great havoc, He comes to save us. And still does today.  Just as He cured the afflicted woman and raised the dead 12 year old girl, so the Lord has given us the bright promise of redemption and immortality, such is His love for us!